The We4Change consortium is looking for enthusiastic youth workers and trainers to support We4Change Changemaker events by learning to organise and deliver these events targeting our key beneficiaries. Details on the call for applications for a Train the Trainer workshop to take place in Brussels on 2-4 February 2022, may be found here and a draft application form here.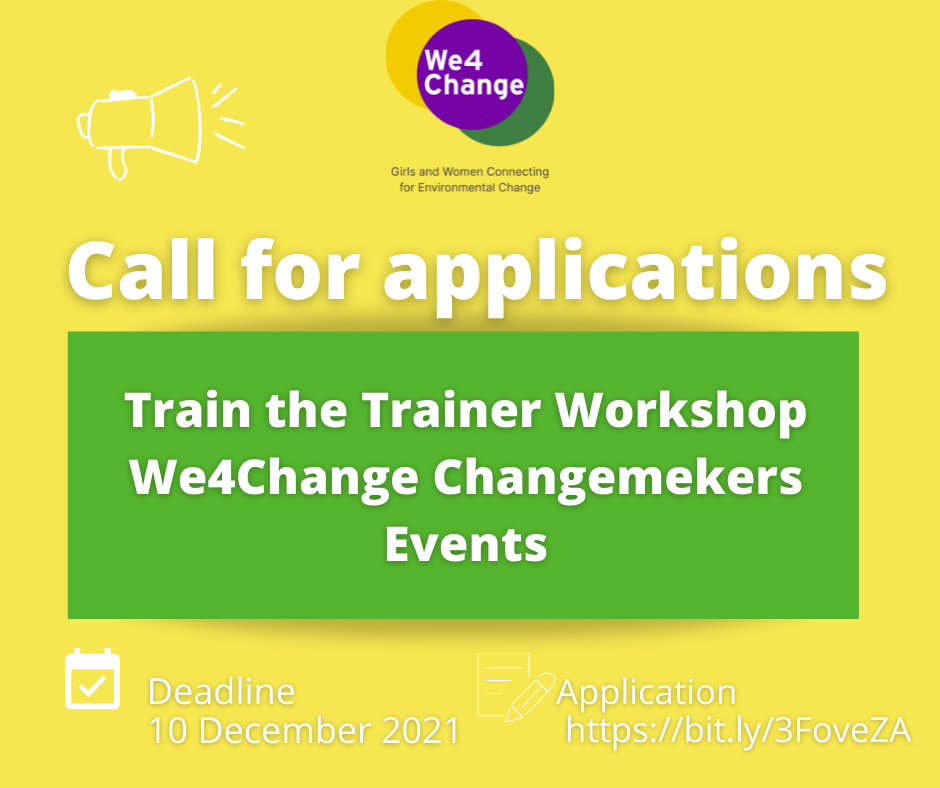 What is the Train the Trainer Workshop?
It is a training dedicated to youth workers and trainers that are interested to learn how to effectively deliver a We4Change Changemakers event – a hackathon-like event that offers an innovative combination of hands-on activities, training on digital, innovation
and environmental awareness skills, problem-solving and co-creation skills to young girls and women to address climate change.
The participants will learn a series of methods of facilitation of such type of event, which includes an important gender element, but also entrepreneurship and environmental activism.  They will develop their communication skills to work with a diverse audience, to change and adapt to different situations and how to handle complex group dynamics to keep things running smoothly. In addition, they will be trained to deliver or assist several workshops on themes such as:  digital, design thinking and pitching.
When will the Train the Trainer Workshop take place?
The training will take place in person between 2-4 February 2022, In Brussels (Belgium). Applicants must be available to participants to the entire 3 days training.
Who can apply?
The training program is addressed to youth workers, trainers, coaches and mentors working or interested in working with girls and young women on the themes covered by the We4Change project, including youth empowerment, environmental action, digital skills, entrepreneurial mindset.
Application and selection procedure
All applications must be submitted before the deadline of 10 December 2021 at 23.59 CET, via the online application form. By submitting the application, applicants accept the eligibility criteria and practical information related to this call.
More information on the WE4Change Changemakers Train the Trainer seminar, including eligibility criteria and practical details, may be found here!